Help Us Keep the Momentum Going!

As a branch of Main Street Maryland, Brunswick Main Street seeks to improve and unite the community all while refurbishing the downtown area.
Brunswick Main Street would not be able to do the work we do without supporters like you. Click below for volunteering & giving options.
Community can directly help local downtown businesses as they recover from the impact of COVID-19 Brunswick, MD (June 17, 2020) — During May 2020 Brunswick Main Street was proud to award 11 Downtown Brunswick businesses with $1000 micro-grants.  This program was made...
read more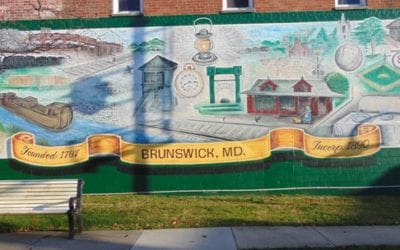 November 13, 2020 Brunswick History Mural Restoration In 1998 the Brunswick History Mural was painted on a brick building in downtown Brunswick. It was a project supported by city residents, the city government, and the Frederick Arts Council. Last month the...
read more
Upcoming Events
Events Search and Views Navigation
List of Events
Meets on the third Tuesday of the Month at 3:00PM Purpose: The Brunswick Main Street Design Committee works to create an attractive Downtown for people to visit, interact, live, and work. The Design Committee seeks to Educate others about good design- enhancing the image of each business as well as that of the district Provide design advice that encourages quality improvements to private properties and public spaces Plan Main Street's development – guiding future growth and shaping regulations Motivate others…
Meets on the third Tuesday of the Month at 3:00PM Purpose: The Brunswick Main Street Design Committee works to create an attractive Downtown for people to visit, interact, live, and work. The Design Committee seeks to Educate others about good design- enhancing the image of each business as well as that of the district Provide design advice that encourages quality improvements to private properties and public spaces Plan Main Street's development – guiding future growth and shaping regulations Motivate others…
Meets on the third Tuesday of the Month at 3:00PM Purpose: The Brunswick Main Street Design Committee works to create an attractive Downtown for people to visit, interact, live, and work. The Design Committee seeks to Educate others about good design- enhancing the image of each business as well as that of the district Provide design advice that encourages quality improvements to private properties and public spaces Plan Main Street's development – guiding future growth and shaping regulations Motivate others…
+ Export Events