COVID-19 Response of Brunswick Sports and Apparel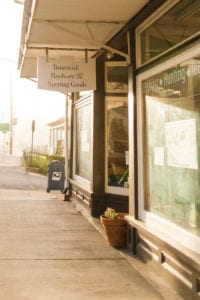 Brunswick Sports and Apparel officially opened its doors as a sporting goods store 2 years ago. Previously, the building had been predominately a hardware store for 45 years. Abbie Ricketts, the current owner, had moved to Brunswick with her family 47 years ago and it was her father that had established the original business. He had worked in a bank but had always dreamed of owning his own hardware store, and when they moved to town, he was able to make that dream into a reality.
Abbie had grown up in the store and eventually worked there and helped
her father. Then, 2 years ago, her father decided it was time to retire. With his retirement came Abbie's decision that it was time to do something a little different. That was when Abbie changed the hardware store to a sporting goods store. Although not the easiest decision, it allowed for the expansion of their business with additional products and services.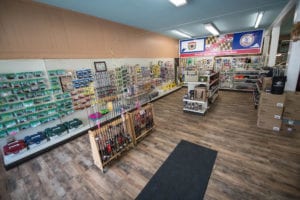 The hardware store already sold many things like sports equipment, fishing gear, and acted as a licensing agent for the Maryland Department of Natural Resources. Now as Brunswick Sports and Apparel, they offer many more products and services such as: custom embroidery and screen printing, heat press, custom decorative sewing, laser engraving, sports equipment, fishing, tackle, signs and banners, and they are a licensing agent for the Maryland Department of Natural Resources. Abbie puts her background in art, along with other skills gained through the years, to good use with the products and services currently offered.  She loves that Brunswick is right next to the C&O Canal and the Potomac River and it is her mission, and all those that work with her, to serve Brunswick and the surrounding areas by providing high quality custom merchandise and timely service.
During COVID-19 it has been a challenge, but somehow, they are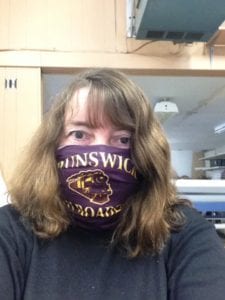 managing to stay in strong spirits. Up until Saturday, April 26th they had been closed, but they are fortunate that they are now able to re-open for the time being. They are currently selling protective face masks which allows them to be open in a limited capacity and those that go inside can shop her other wares and obtain a fishing license. Their current operating hours are Tuesday – Saturday from 9 a.m. to 5 p.m. Stop in and pick up a Brunswick Railroaders mask, sports equipment and apparel, or a fishing license.  Discover what Brunswick Sports and Apparel has for you!