Towpath Creamery was established 2 years ago to offer delicious, high-quality, all-natural, hand-dipped ice cream in downtown Brunswick.  In addition to serving high-quality food, they also are dedicated to operating in an environmentally conscientious manner by using compostable to-go ware, hiring a local compost company, conserving water, and minimizing waste.  They currently offer 2 different brands of all-natural ice cream – South Mountain Creamery (Frederick County, MD) and Cold Run Creamery (Berk's County, PA) – as well as sorbet and frozen yogurt from Giffords (Skowhegan, Maine).  Each brand includes wonderful flavors that are sure to make your taste buds happy!
Karin Tome, the owner of the creamery, had the desire to open her own small business for several reasons, one of which was understanding what small-business owners have to contend with in terms of government regulations, taxes, etc.  She had also noticed that as hikers and cyclists came off the Chesapeake & Ohio Canal National Historical Park towpath, they were often looking for ice cream to enjoy.   A final reason was that she had the experience of taking her kids to a local ice cream shop when they were younger (in the 1990's, where the Hive Bakeshop is currently located); they loved this experience and the memories they created as a family.  She wanted to offer this opportunity to folks in the Brunswick and Lovettsville area.
Although she has never experienced running her own business previously, she has enjoyed the adventure. She took the time to research thoroughly before jumping straight into it. This was important because she has always wanted to run a business that is environmentally friendly. They are licensed as a Benefit LLC and they commit to recycling and composting (giving back to the environment) where possible. Karin has also taken many courses to help her to learn more about running a business. These course were provided by the Women's Business Council, the Maryland Small Business Development Center, and Frederick County.
Karin takes her business very seriously and loves the City of Brunswick. It has always held a special place in her heart. The sense of community that exists among the community inspires her and the volunteer services that people provide around town is heart-warming, to say the least. During the summer, Brunswick acts as a hub of life, bringing in folks from all over the world to hike and cycle on the towpath and visit an authentic railroad boomtown.  Karin loves to meet all of those visiting and especially loves it when they can come in and enjoy some ice cream!
Towpath Creamery offers a wide variety of products for purchase. They sell hand-dipped ice cream, soft-serve ice cream (when the machine is up and running!), sundaes, cones, milkshakes, floats, local coffee and honey, as well as snacks and drinks. They are currently open Wednesday/Thursday from 5 pm – 8 pm and Friday – Sunday from 12 pm – 8 pm, but will extend their hours to 7 days when it gets warmer.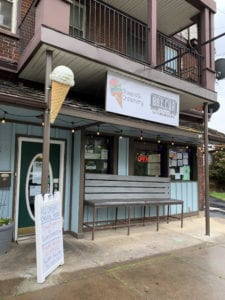 Due to the COVID-19 crisis, their menu is currently limited. However, they are taking all precautions necessary to ensure the safety of their customers and staff. They have hired a couple of new staff members due to the pandemic, and they are working hard to provide quality service to all who visit. They are accepting online orders on their website at towpathcreamery.com and you can call to pick up at 301.969.6480.